Treasured Heirlooms Crochet Catalog:

Pilgrims Cookie Cutter Dolls
---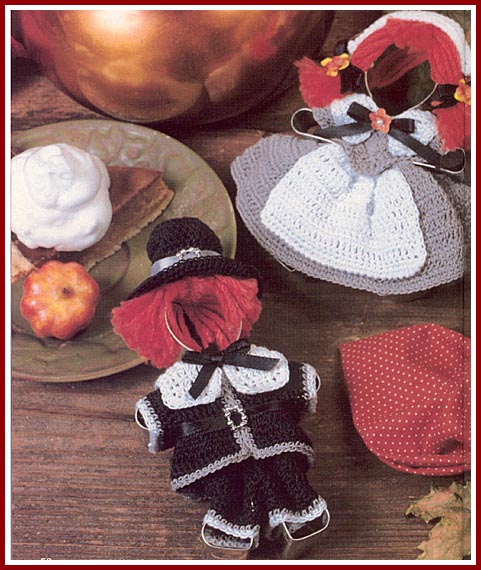 Cookie Cutter Pilgrims appeared in THE SEASONS OF CROCHET book, published by Annie Potter Presents in 1997.
Other patterns in this book include:
Peppermint Elf
Trick or Sweet Witch
Bunny Beans
Reindeer Family
Chimney Santa Sock
Celestial Dreams Ornament
Mark of Faith Bookmark
Snowflake Coasters
Angels of the Month
Patriotic Birdhouse Hotpads
Irish Lass
Sweetheart Pillow
Poinsettia Toilet Tissue Cofer
Snowflake Afghan
Pineapple Tree Skirt
Please note: Quantities are very limited. Due to the copyright laws, and the fact that the copyrights for the published items do NOT belong to me, these patterns may only be sold as part of the publications in which they appear. I cannot sell scans or copies of these patterns by email.
Shipping & Handling costs will be added to all orders, as well as 6% sales tax for Michigan residents.
---
---
Treasured Heirlooms Crochet is a subsidiary of Hook And Web Designs .
---
Page, background, and graphics Copyright © 2005, Hook and Web Designs. All Rights Reserved.
Technical problems? Contact the Webmaster!