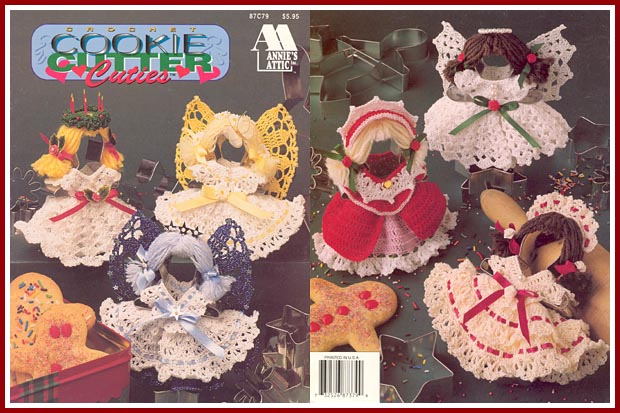 Cookie Cutter Cuties came about as a dare from my Auntie Pat. While out shopping one day, she found an angel made from lace and yarn glued around a gingergread man cookie cutter. She said, "You could crochet something MUCH cuter than this. And when you do, I want the first one!" The white angel with the dark pigtails and rose trim, upper left on the above graphic, is Auntie Pat's.
Other Cuties in the set include: St. Lucia, Blue Fairy, Sunshine Angel, Victorian Girl (in ecru and maroon), and my Valentine's Day gal in red with the gold heart button.
Please note: Quantities are very limited. Due to the copyright laws, and the fact that the copyrights for the published items do NOT belong to me, these patterns may only be sold as part of the publications in which they appear. I cannot sell scans or copies of these patterns by email.
Shipping & Handling costs will be added to all orders, as well as 6% sales tax for Michigan residents.
Please note that this leaflet is long out of print. I have two copies, in various conditions (as described below):
PD-004
Cookie Cutter Cuties (good used condition -- may have cover/page wear, may have writing or highlighting on pages.)
$9.95
PD-004b
Cookie Cutter Cuties (very good condition)
$12.95