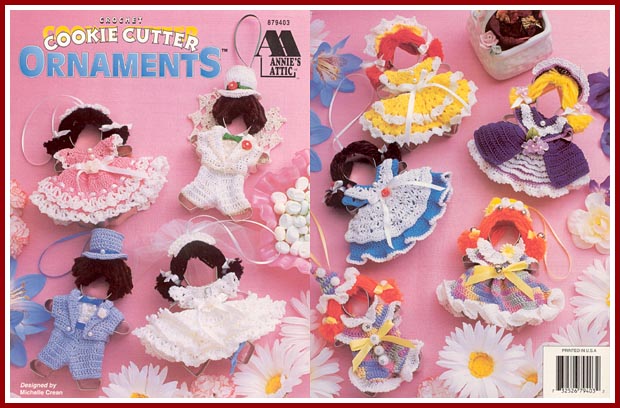 Cookie Cutter Cuties were so popular that Annie's Attic Design Editor asked me for more. The result was Cookie Cutter Ornaments.For a while, I joked with people that I was making my living dressing kitchen utensils! Of course my Aunt, the one who dared me to attempt the first one of these, said, "I told you so!"
This set includes a Bride and Groom, a flower girl, a bridesmaid, a boy angel, two clowns, and two very sweet "just because" girls. I personally wouldn't use these as tree ornaments, because they are quite large, but they are a lot of fun on a bookshelf, a knicknack shelf, to give as hostess gifts, for wedding reception and shower decorations, etc.
Please note: Quantities are very limited. Due to the copyright laws, and the fact that the copyrights for the published items do NOT belong to me, these patterns may only be sold as part of the publications in which they appear. I cannot sell scans or copies of these patterns by email.
Shipping & Handling costs will be added to all orders, as well as 6% sales tax for Michigan residents.