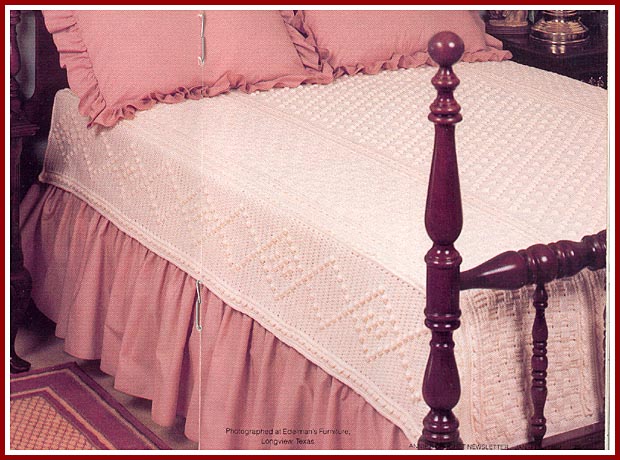 The Fisherman Bedspread is worked in knitting worsted weight yarn, using popcorn stitches, basketweave, and single and double crochet. It measures approximately 72" x 82" in size. This pattern appeared in Annie's Crochet Newsletter, January-February 1989.
Other patterns in this publication include:
Antique Glove Box
Beaded Doily
Linen Edgings
Folk Art Chain
Tufted Pillow
Lid Covers
Crochet Granny
Starry Sky Shawl
Kid's Winter Mittens
Baby's Hooded Sweater
Mitten Keeper
Animal Towel Rings
Boy Doll's Sweater Set
Please note: Quantities are very limited. Due to the copyright laws, and the fact that the copyrights for the published items do NOT belong to me, these patterns may only be sold as part of the publications in which they appear. I cannot sell scans or copies of these patterns by email.
Shipping & Handling costs will be added to all orders, as well as 6% sales tax for Michigan residents.