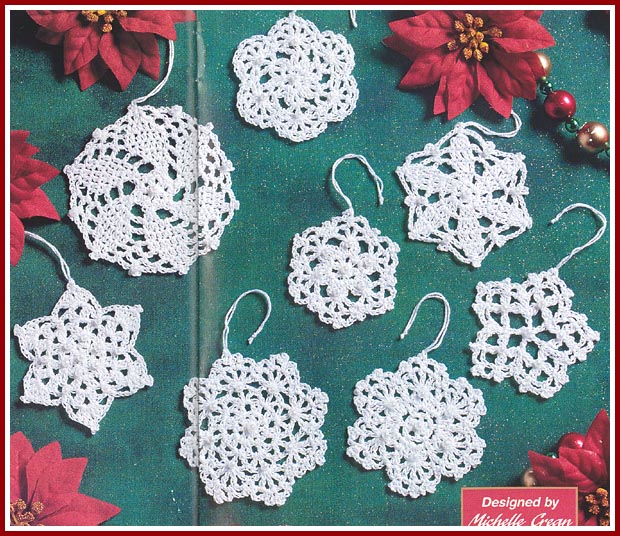 Pearl Ornaments appeared in Annie's Crochet to Go! , Sept. 2000. You can probably guess that Christmas is my favorite time of year. For the past couple of decades, I have been crocheting small snowflake ornaments out of size 10 crochet cotton to include in all my Christmas cards. Believe it or not, I am now crocheting over 100 of these each November! Luckily, they work up quickly, and are a lot of fun to do.
Other patterns in this issue include:
Cotton Candy Pullover
Cross Stitch Booties
Crayon Log Cabin Afghan
Easy Kitchen Helpers
Dish Towel Topper
Hooded Scarf
Wheat Doily
Indian Clothespin Doll
Blue Strip Afghan
Fancy Pants Cover-Up
Birds on a String
One Skein Pillow
Spanish Señorita
Pink Knots Booties
Parrot Pencil Pal
Please note: Quantities are very limited. Due to the copyright laws, and the fact that the copyrights for the published items do NOT belong to me, these patterns may only be sold as part of the publications in which they appear. I cannot sell scans or copies of these patterns by email.
Shipping & Handling costs will be added to all orders, as well as 6% sales tax for Michigan residents.