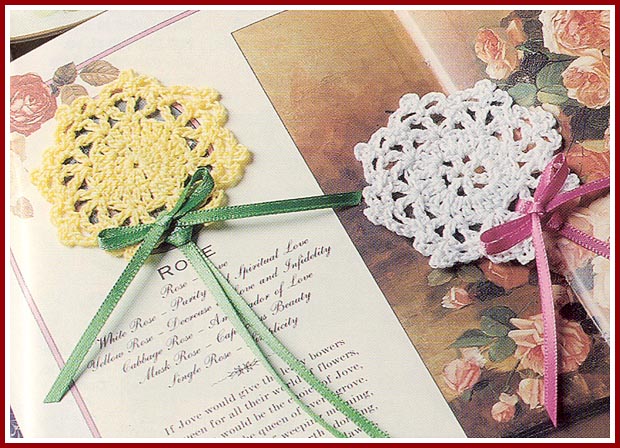 The Sundrop and Snowflake Ornaments appeared in Annie's Crochet to Go! , March 2001, billed as bookmarks. While you can certainly use them in that capacity, originally, they were designed to include in my Christmas cards. A great-aunt had made the comment that November had been so gloomy, that she wished she could keep some of the sun from the nice days to get her through the dreary ones. That year, I sent her and everyone else on my Christmas card list a little piece of sun.
Other patterns in this issue include:
Framed Flowers
Scrubby Pad
Magnet Menagerie
Irish Lassie
Elegant Bath Set
Fancy Hat
TulipAfghan
Seatbelt Friendly Bunting
Mini Bed Doll
Flower Power Pillows
Rings of Clover
Cozy Slippers
Drawstring Purse
Please note: Quantities are very limited. Due to the copyright laws, and the fact that the copyrights for the published items do NOT belong to me, these patterns may only be sold as part of the publications in which they appear. I cannot sell scans or copies of these patterns by email.
Shipping & Handling costs will be added to all orders, as well as 6% sales tax for Michigan residents.