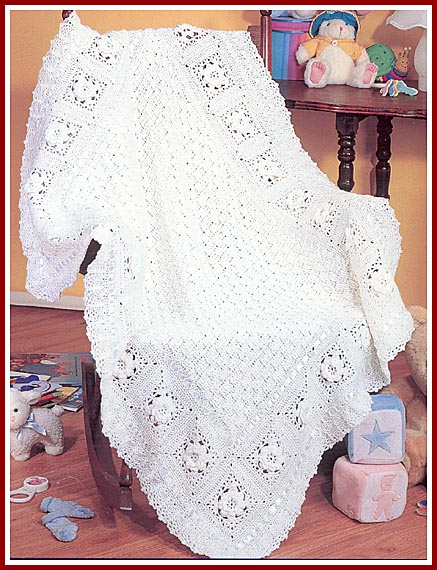 Roses in the Snow , one of my favorite afghan patterns, was the Grand Prize winner of the 2003 Herrschners Grand National Afghan Contest. It appeared in Herrschner's Award Winning Baby Afghans 2003. This afghan is crocheted with Jamie Baby Yarn and sizes D & F crochet hooks, and trimmed with satin ribbon.
Other patterns in this publication include:
Butterflies and Blossoms Afghan (knit)
Sail Away Afghan (knit)
Reversible Stripe Afghan (crochet)
Roses in the Snow has also been reprinted in the 2006 Leisure Arts book, More Herrschners Blue-Ribbon Afghans! (Click here for other afghans in this book.)
While working with a customer who purchased this booklet, I discovered that somewhere in the editing process, some errors were made at the beginning of many of the rows. I have put together a corrections sheet, which you can download here.

Download Roses in the Snow pattern correction PDF

Please note: Quantities are very limited. Due to the copyright laws, and the fact that the copyrights for the published items do NOT belong to me, these patterns may only be sold as part of the publications in which they appear. I cannot sell scans or copies of these patterns by email.
Shipping & Handling costs will be added to all orders, as well as 6% sales tax for Michigan residents.
This booklet is extremely difficult to find. Very good condition.

PB-005
Herrschners Award Winning Baby Afghans 2003: Roses in the Snow
$24.99
This book is extremely difficult to find. Former owner's name on first page, but otherwise excellent condition.

PB-011
More Herrschners Blue Ribbon Afghans
$29.99