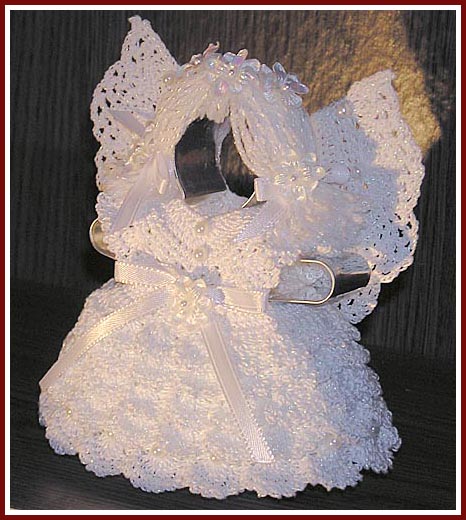 Aunt Irma's Snow Angel appeared in Annie's Favorite Crochet, December 2004, but I designed it as a gift for Aunt Irma several years previously. Aunt Irma was my husband's grandmother's baby sister, born in the snowbelt of Southwestern New York State and transplanted to California for most of her adult life. It was Aunt Irma who gave me my first set of steel crochet hooks and introduced me to thread crochet. Every year when my husband and I went "home" to NYS for Christmas, she asked us to make a snow angel for her. I wanted to make her one she could keep with her year-round.
The Angel is crocheted using pearlized white crochet cotton and is trimmed with many white pearl beads, white satin ribbon, and white irridescent fabric flowers.
Other patterns in this issue include:
Snowman Stocking
Holiday Tartan Afghan
Golden Chevrons BOokmark
Purse Accessory Set
Plum Pudding Afghan
Reindeer Holiday Basket
Evening Jewels Poncho
Plush & Lush Scarf & Hat
Christmas Trees Doily Set
Please note: Quantities are very limited. Due to the copyright laws, and the fact that the copyrights for the published items do NOT belong to me, these patterns may only be sold as part of the publications in which they appear. I cannot sell scans or copies of these patterns by email.
Shipping & Handling costs will be added to all orders, as well as 6% sales tax for Michigan residents.