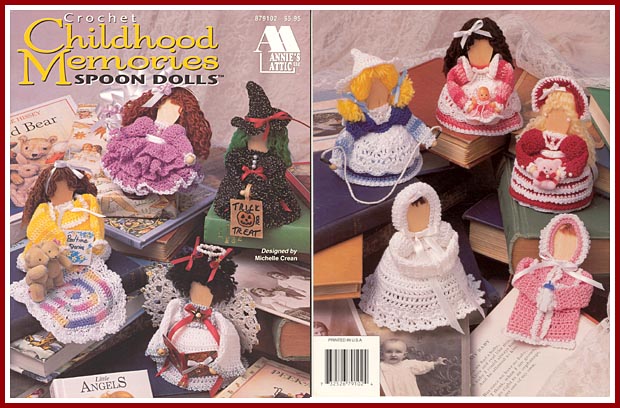 Remember those little cups of ice cream that used to come with their own wooden spoons? Where I grew up, we called them "Dixie Cups." I used to keep my spoons and dress them up with cupcake papers! When Deborah Hamburg of Annie's Attic Design Department called one day and asked me if I could crochet something using these spoons as a base, I had a wonderful time coming up with this set! They also make adorable Christmas ornaments.
The nine designs include: Little Dutch Girl with her jumprope, Trick or Treat Witch, Bedtime Story with Bear and Blankie, Christmas Pageant Angel, Show and Tell with her little doll, Baby, Christening Baby, Be My Valentine with her bear, and the little girl dressed in her Sunday Best with a bouquet of flowers for Mother's Day.
Please note: Quantities are very limited. Due to the copyright laws, and the fact that the copyrights for the published items do NOT belong to me, these patterns may only be sold as part of the publications in which they appear. I cannot sell scans or copies of these patterns by email.
Shipping & Handling costs will be added to all orders, as well as 6% sales tax for Michigan residents.