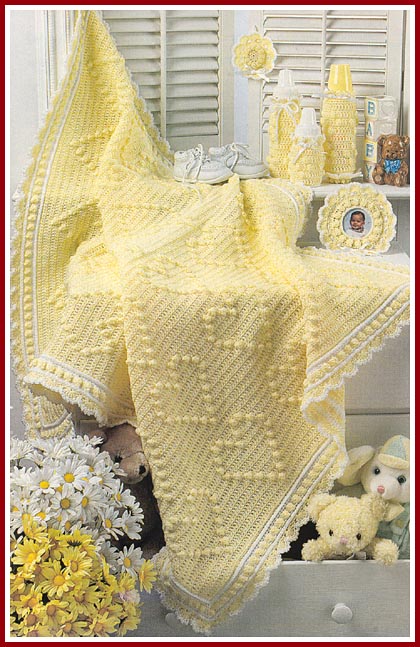 "You Are My Sunshine" is a song my Grampa Manley used to sing to me when I was a little girl. It always made me feel very special, and every time I see sunshine yellow, I think of him.
I created this set in memory of Grampa Manley, and also in the hopes that it will make other babies feel special, too. The pattern set appeared in the January - February 1998 issue of Annie's Crochet Newsletter and features the afghan, three bottle covers (one of them, musical!), a photo frame, and a Hanging Music Box. It is worked mostly in single and double crochet, with popcorn hearts, using baby pompadour yarn (any "fine" or "very fine" baby yarn will work).
Please note that these pattern books are long out of print. I obtained them through "secondary sources" and they are in good used condition.
Other patterns in this issue include:
Chenille Purse
Victorian Sideboard Cover
Pineapple Earrings
Victorian Bookmark
Poodle Tissue Roll Cover
Garden Fairies
Hearts & Flowers Afghan
Heart-in-Hand Pillow
Heart Doily
Please note: Quantities are very limited. Due to the copyright laws, and the fact that the copyrights for the published items do NOT belong to me, these patterns may only be sold as part of the publications in which they appear. I cannot sell scans or copies of these patterns by email.
Shipping & Handling costs will be added to all orders, as well as 6% sales tax for Michigan residents.
Please note: this pattern is long out of print and very hard to find. Small note in ink on front cover, but otherwise excellent condition.
PB-007
"You Are My Sunshine" (Annie's Crochet Newsletter #91, Jan-Feb 1998)
$14.95