Treasured Heirlooms Crochet Catalog:

Grama's Sweetheart Sweater Set for 18" Dolls
---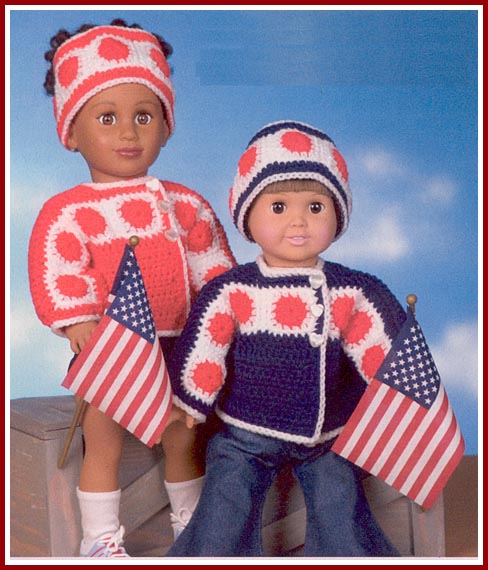 Grama's Sweetheart Sweater Set appeared in Crochet World, February 2006. These sweaters and hats were designed to fit the popular 18" dolls such as Goetz, American Girl, Springfield, etc., and are made with sport-weight yarn.
Other patterns in this issue include:
Lacy Look Sweater
Rainbow Baby Jacket
Heathers Jacket
Suede Scarf
Tiny the Clown
Men's Vest Scarf
Soft & Cozy Hat
Little Beaded Basket
Black & Tan Hook Envelope
Country Afghan
Cutwork Afghan
Hot Hats
Light & Airy Ponchos
Warm & Fuzzy Pullover
Golden Fleece Felted Handbag
Please note: Quantities are very limited. Due to the copyright laws, and the fact that the copyrights for the published items do NOT belong to me, these patterns may only be sold as part of the publications in which they appear. I cannot sell scans or copies of these patterns by email.
Shipping & Handling costs will be added to all orders, as well as 6% sales tax for Michigan residents.
Please note: Dolls shown are just models and are not for sale. Treasured Heirlooms Crochet is not affiliated in any way with Pleasant Company, LTD.
---

Treasured Heirlooms Exclusive 18" Doll Outfits


Vintage Pattern Shop 18" Doll Outfits


Back to Catalog of Booklets and Magazines: Dolls and Doll Accessories

---
Treasured Heirlooms Crochet is a subsidiary of Hook And Web Designs .
---
Page, background, and graphics Copyright © 2005, Hook and Web Designs. All Rights Reserved.
Technical problems? Contact the Webmaster!