Treasured Heirlooms Crochet Catalog:

Cozy Post Stitch Doll Afghan & Pillow Set
---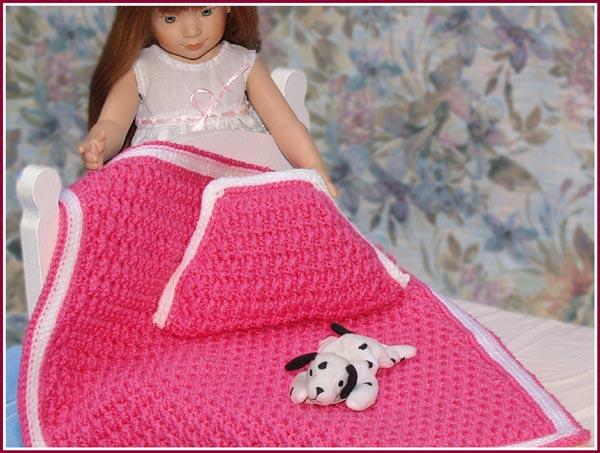 Cozy Post Stitch Doll Afghan & Pillow Set allows a favorite doll to cuddle up and read or watch TV with her very own textured afghan and triangle-shaped "back pillow." The set is fairly simple, quick, and fun to make in baby DK yarn. Finished afghan measures 17" x 21" to fit a doll bed sized for popular 15" baby or 18" dolls. Also makes a nice "wrap-up" blankie for a smaller baby!
6% sales tax will be added to all orders for Michigan residents, but you can save printing, shipping and handling costs by ordering the PDF version of the pattern! It will be emailed to you immediately, and you may print it yourself at your leisure.

What is PDF?

* Plus 6% tax for Michigan residents.
---

Back to Catalog of Exclusive Patterns for Dolls


Vintage Pattern Shop: Outfits & Accessories for 18" Dolls

---
Treasured Heirlooms Crochet is a subsidiary of Hook And Web Designs .
---
Page, background, and graphics Copyright © 2005, Hook and Web Designs. All Rights Reserved.
Technical problems? Contact the Webmaster!