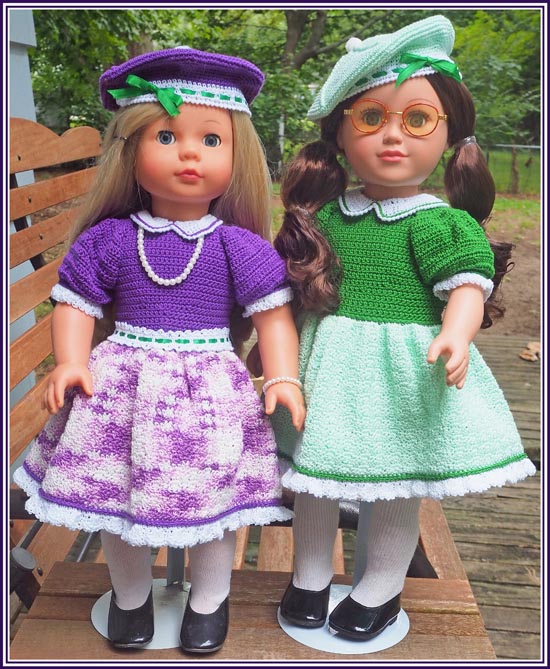 As you can probably tell, I had a lot of fun with this pattern set. What started out as a simple dress for the March/April 2021 issue of Doll Castle News magazine evolved into an ensemble that allows you to mix and match colors, components, and accessories to create several different outfits from the same basic set of instructions.
This versatile ensemble crocheted in size 10 cotton thread includes patterns for Dress, Half-Slip, Sash/Hairband, Hat/Beret, and Simple Pearl Necklace & Bracelet Set. You can create many different looks just by changing color schemes, adding or subtracting pieces, and settling the hat square on the head or slouching it beret-style! You can even forget the hat completely and use the sash pattern for a hairband, and the half- slip could easily be converted into a skirt.
Of course, you can also easily lengthen or shorten the skirt, and add a few rows to the bodice alone to convert it to a blouse. With a little imagination, you can create an entire wardrobe!
(For more info on Doll Castle News, to which I am now a regular pattern contributor, please see their website at: http://www.dollcastlemagazine.com.)
6% sales tax will be added to all orders for Michigan residents, but you can save printing, shipping and handling costs by ordering the PDF version of the pattern! It will be emailed to you immediately, and you may print it yourself at your leisure.

What is PDF?

Field of Violets pattern set for 18" dolls:
NOTE: Due to the problems some folks have had receiving emailed PDF's, I am adding a new option for purchasing: Electronic Download via Ravelry.com.

You will still check out using PayPal, but the Ravelry Buy Now link will take you directly to the Ravelry checkout instead of our shopping cart so that you will be able to download your pattern(s) immediately and securely!

You DO NOT have to be a Ravelry member to order through this link -- and I highly recommend it over emailed PDF's!

ED-026
Field of Violets Electronic Download from Ravelry.com
Recommended
$7.99 Total*
Field of Violets Emailed PDF
$7.99 Total*
Field of Violets - Printed
8.99 + s/h*
* Plus 6% tax for Michigan residents.