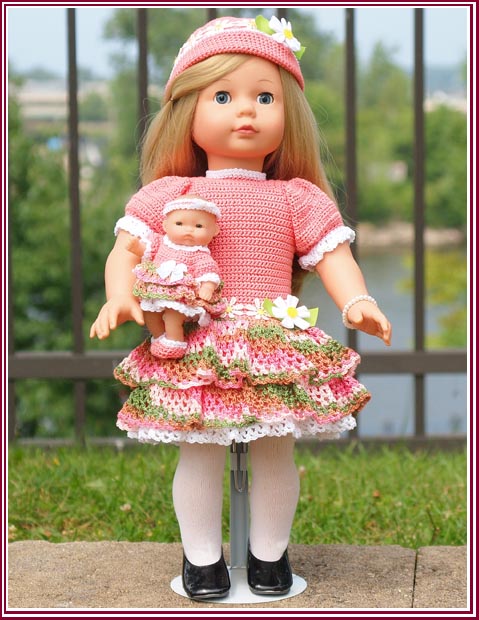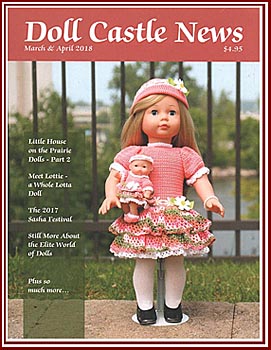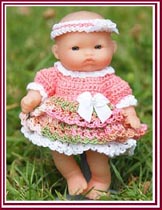 Spring & Blossom is the first pattern in my new "A Friend For All Seasons" series. As you can probably guess from the title, there will be four sets: Spring, Summer, Fall, and Winter. Each set will showcase matching outfits crocheted in size 10 cotton thread for an 18- inch little girl doll and her 5- inch "Lots to Love" baby doll friend.
Spring's 18" doll outfit features a drop-waisted ruffle- skirted dress and matching cloche- style hat, accented by pre- made and purchased daisy trims. Instructions for a simple "pearl" bracelet are also included.
Blossom's 5" doll ensemble features matching ruffled dress, headband, slippers, and diaper. (Please note: Blossom is also available separately -- if you would prefer JUST the 5-inch doll outfit, see below or click here!)
Though this set is shown in spring-bright colors, you can use your imagination and any color combination to create "Seasons" of your own!
I was very excited when the editors of Doll Castle News Magazine asked to use Spring & Blossom on the cover of their March & April 2018 issue! For more info on Doll Castle News, please see their website at: http://www.dollcastlemagazine.com.
6% sales tax will be added to all orders for Michigan residents, but you can save printing, shipping and handling costs by ordering the PDF version of the pattern! It will be emailed to you immediately, and you may print it yourself at your leisure.

What is PDF?

Combined Pattern Set, Spring (18-inch) and Blossom (5-inch) BOTH:
NOTE: Due to the problems some folks have had receiving emailed PDF's, I am adding a new option for purchasing: Electronic Download via Ravelry.com.

You will still check out using PayPal, but the Ravelry Buy Now link will take you directly to the Ravelry checkout instead of our shopping cart so that you will be able to download your pattern(s) immediately and securely!

You DO NOT have to be a Ravelry member to order through this link -- and I actually recommend it over emailed PDF's!

ED-022E
Spring & Blossom Electronic Download from Ravelry.com
Recommended
$8.99 Total*
Spring & Blossom Emailed PDF
$8.99 Total*
Spring & Blossom - Printed
8.99 + s/h*
Individual Pattern, 5-inch doll ONLY:
ED-022a

5" Blossom ONLY - Emailed PDF
$5.95 Total*
5" Blossom ONLY - Printed
$5.95 + s/h*
* Plus 6% tax for Michigan residents.