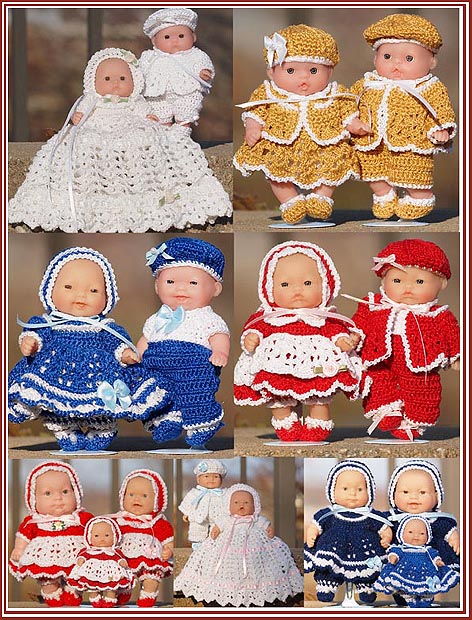 Donna Raye's Gemstone Babies is the latest in my series of ensembles for the small Berenguer baby dolls. Designed to fit the 5 inch chubby vinyl "Lots to Love" baby when made with size 10 metallic crochet cotton, these outfits can also be made in "Fine-2" weight baby/sport yarn (I used the sparkly Vanna's Glamour) to fit 7-1/2 inch stuffed baby and 8 inch chubby vinyl dolls.
Ensembles include: Desiree's Diamonds & Pearls Christening Set, Samantha's Saphires, Reilly's Rubies, and Tanessa & Taylor, Topaz Twosome. Girls' ensembles each include Dress, Bonnet or Hat, Bloomers/ Panties, and Tanessa's also includes a short jacket/ sweater. Boys' ensemble includes Romper (with choice of long or short pants or knickers), Sweater/ Jacket, and Cap. Matching shoes complete all the outfits. You can mix and match pieces for an entire wardrobe!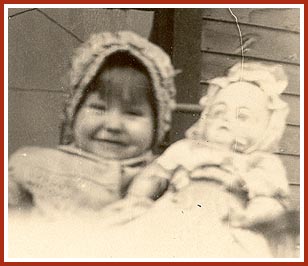 In case you're wondering -- Donna Raye is my mom. She made clothes for all of my sister's and my dolls when we were kids, as well as dressing dolls for charity Christmas baskets. In 2009, when she was in the hospital for hip surgery, I surprised her with a Lots to Cuddle Babies® doll and the prototype outfits, one piece every day or two (the original Donna Raye's Dolls pattern set). Not only did it brighten up her room, but the nurses enjoyed coming in to see what new wardrobe accessory had been added! (That's Donna Raye on the right, with her Aunt Ophelia's doll -- handed down to her from HER Aunt Ophelia!)
6% sales tax will be added to all orders for Michigan residents, but you can save printing, shipping and handling costs by ordering the PDF version of the pattern! It will be emailed to you as soon as I receive your order from PayPal, and you may print it yourself at your leisure.
NOTE: Due to the problems some folks have had receiving emailed PDF's, I am adding a new option for purchasing: Electronic Download via Ravelry.com.

You will still check out using PayPal, but the Ravelry Buy Now link will take you directly to the Ravelry checkout instead of our shopping cart so that you will be able to download your pattern(s) immediately and securely!

You DO NOT have to be a Ravelry member to order through this link -- and I actually recommend it over emailed PDF's!

ED-023E
Donna Raye's Gemstone Twins Electronic Download from Ravelry.com
Recommended
$9.95 Total*
ED-023E
Donna Raye's Gemstone Twins - Emailed PDF
$9.95 Total*
ED-023P
Donna Raye's Gemstone Twins - Printed
$9.95 + s/h
* Plus 6% tax for Michigan residents.