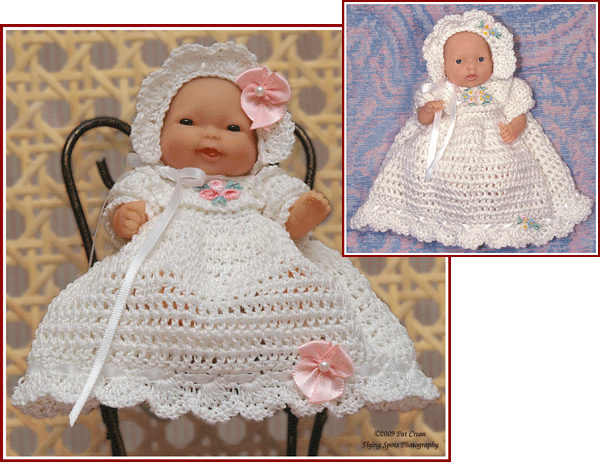 Lots to Love Babies® and Mini La Newborn® Dolls by JC Toys Group, Inc. and used with permission.
JC Toys products are copyrighted under federal law. For more information, please visit www.jctoys.com.
Myrande's Christening is the first in my series of ensembles for 7.5 inch and 5 inch Berenguer baby dolls. Originally made in baby yarn for Myrande's 7.5 inch soft-bodied "Lots to Cuddle" Baby (or the 7.5" vinyl "Mini La Newborn," smaller photo), this outfit is also a perfect fit for the 5 inch "Lots to Love" baby when made with size 10 crochet cotton (larger photo). Pattern includes gown, bonnet, panties, and booties.
Shhhh--the doll and christening ensemble are going to be Myrande's Christmas presents this year!
Order just Myrande's Christening below, or click here for Donna Raye's Dolls, which includes Myrande's Christening and five other outfits for 7.5" and 5" baby dolls.
6% sales tax will be added to all orders for Michigan residents, but you can save printing, shipping and handling costs by ordering the PDF version of the pattern! It will be emailed to you as soon as I receive your order from PayPal, and you may print it yourself at your leisure.

What is PDF?

* Plus 6% tax for Michigan residents.