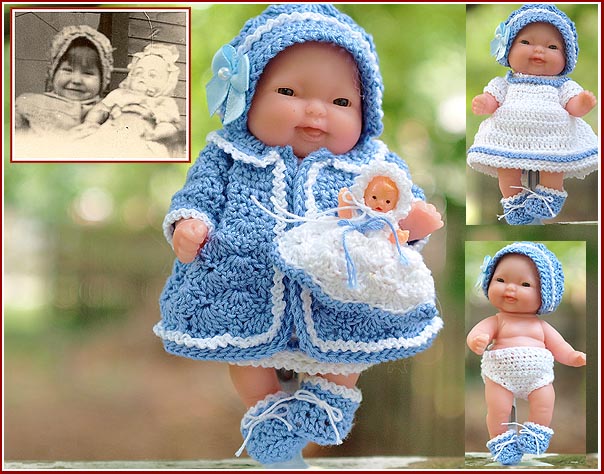 Intrigued by the story behind my "Donna Raye's Dolls" pattern sets, Doll Castle News magazine asked me to write an article for their November- December 2016 issue about crocheting, designing, dolls, and Donna Raye -- my Mom. Donna Raye and Her Doll is the pattern set I designed to accompany the article. It was inspired by the 1925 photo of Mom and her aunt's doll (which was almost as big as she was!). That's the actual Donna Raye and Ophelia in the photo inset, above.
This pattern set is sized for the 5-inch vinyl Berenguer baby doll and a 1-inch "party favor" size baby doll and includes: Dress, Coat, Bonnet, Shoes, and Panties for Donna Raye, and Dress, Diaper, and Bonnet for tiny baby Ophelia. All pieces are worked in size 10 crochet cotton. Though I haven't tried it, the larger doll's outfit should also fit a 7-1/2-inch soft body baby doll, if worked in baby yarn with a larger hook.
The Coat and Bonnet patterns originally appeared in the magazine.
Other Donna Raye's Dolls pattern sets include:
6% sales tax will be added to all orders for Michigan residents, but you can save printing, shipping and handling costs by ordering the PDF version of the pattern! It will be emailed to you as soon as I receive your order from PayPal, and you may print it yourself at your leisure.
NOTE: Due to the problems some folks have had receiving emailed PDF's, I am adding a new option for purchasing: Electronic Download via Ravelry.com.

You will still check out using PayPal, but the Ravelry Buy Now link will take you directly to the Ravelry checkout instead of our shopping cart so that you will be able to download your pattern(s) immediately and securely!

You DO NOT have to be a Ravelry member to order through this link -- and I actually recommend it over emailed PDF's!

ED-025E
Donna Raye and Her Doll Electronic Download from Ravelry.com
Recommended
$6.99 Total*
ED-025E
Donna Raye and Her Doll - Emailed PDF
$6.99 Total*
ED-025P
Donna Raye and Her Doll - Printed
$6.99 + s/h*
* Plus 6% tax for Michigan residents.
More of my pattern sets for 5" baby dolls: